Alan R. Taradash
Albuquerque, New Mexico
After 32 years with the Nordhaus Law Firm and almost 50 years serving Indian country, our partner Alan Taradash reluctantly left the partnership on September 30th due to family and personal reasons.
The firm's partners express their profound gratitude to Alan for his extraordinary service to Indian country and to Nordhaus. His commitment, tenacity, and expertise have been an inspiration to us all, and we each have relished the opportunity to learn from one of the staunchest advocates for Native interests. Just as Alan assumed the mantle of Bob Nordhaus when he left the firm, we look forward to moving forward with Alan's legacy and lessons as touchstones in our work for tribes.  Alan will remain available to consult with us as may be beneficial to the firm's client tribes.
We wish Alan and his family the very best as they enter into this next chapter in their lives.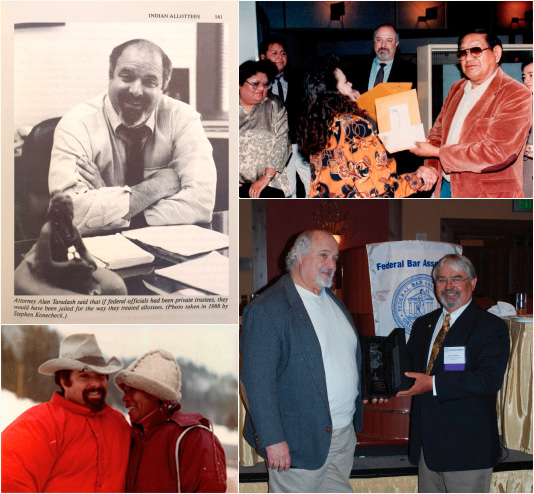 Photos: clockwise from upper right: 1. Alan (rear center) and President Leonard Atole of the Jicarilla Apache Nation presenting an award to the Nation's Revenue and Taxation Department in 1999 at the Amoco/Conoco settlement victory celebration after 30 years of litigation successfully concluded by Alan and others at the Firm. 2. Alan with Lawrence Baca after receiving the Federal Bar Association's Lifetime Achievement Award in Indian Law. 3. Alan and his wife Gloria in 1976, on the Navajo Reservation, where Alan began his career in Indian Law in 1970 with Dinébe'iiná Náhiilna be Agha'diit'ahii (DNA). 4. Photo from Breaking the Iron Bonds: Indian Control of Energy Development (Marjane Ambler 1990)